In advance of the extended St Patrick's Day break, on Monday March 14th, the NEPTuNE team met for the first Study Day of 2022. As COVID19 restrictions had only recently been eased, the event was held online.
Our scholars gave great presentations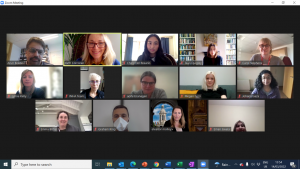 which included updates on their research progress, their PPI involvement and their recruitment. They are delighted that labs have reopened which facilitates patient recruitment again.
We were delighted to welcome Professor Rhodri Cusack from TCD to the event. His presentation 'The Open Science Revolution' gave a great insight into the impact of research.
While we miss meeting in person as a team, our virtual space has worked well throughout the course of the pandemic. It has made it easy for speakers from different locations to present to our scholars. All this being said, we do hope that our next Study Day will be a live event and we look forward to meeting up in person!