After two long years of virtual Study Days, our HRB NEPTuNE team finally got to meet each other in person again for our 8th June 2022 Study Day!
The event was hosted by the PANDA project in TCD and the day began with research progress updates from our NEPTuNE scholars. At this advanced stage of their PhDs, they have had the opportunity to collaborate with each other and have many publications under their belts.  They also briefed us on their PPI involvement. Our scholars are very lucky to have such dedicated PPI support from the INHA.
We were delighted to welcome Dr Hana D'Souza from University of Cambridge and University of Cardiff to the event.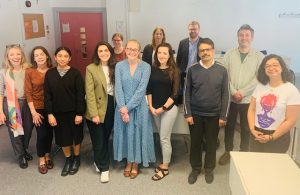 She made a fascinating presentation on child development entitled Understanding development in the context of parent-child interaction: the case of Down syndrome.
We were also very grateful to Jerry Deasy, UCC, who joined us to present on Data Security. This talk was very relevant to all our team given the sensitive nature of the data that is collected.
The virtual expertise that we have all acquired over the last two years, enabled our dedicated PPI representative, Mandy Daly (INHA) to present remotely. She gave us an update on The patient experience in 2022.
While our virtual Study Days worked very well while COVID19  restrictions were in place, nothing beats the informal conversations that happen at live events. Great to be back in the real world!