About ANSeR
The ANSeR (Algorithm for Neonatal Seizure Recognition) study has developed a computer algorithm that can detect seizures in newborn babes.
Around 10% of all infants delivered require admission to the neonatal intensive care unit. Some of these will have suffered a brain injury or stress. Continuous EEG recordings of an infant's brain can detect and treat the "silent" seizures of a newborn. To interpret the signals, EEG experts are needed, but neurophysiologist expertise is not available in every hospital and certainly not available 24/7.
ANSeR is a seizure detection algorithm for EEG monitoring that can detect seizures and automatically alert the healthcare team if there are problems. The technology enables clinicians to treat seizures promptly and thereby improve the long-term outcomes for children who have had a difficult start in life.
The neonatal seizure detection system was tested in controlled clinical trials in eight hospitals across Europe. The algorithm has now been licensed to Nihon Koden, Japan and the team are currently in negotiations with other patient monitoring companies re licensing the algorithm. This will ensure that the technology will be available for newborns world-wide.
Please view the ANSeR infographic on the right to read more about the project. The research team is very grateful to their PPI, Paul Ryan, who contributed his time and expertise to the design of the infographic.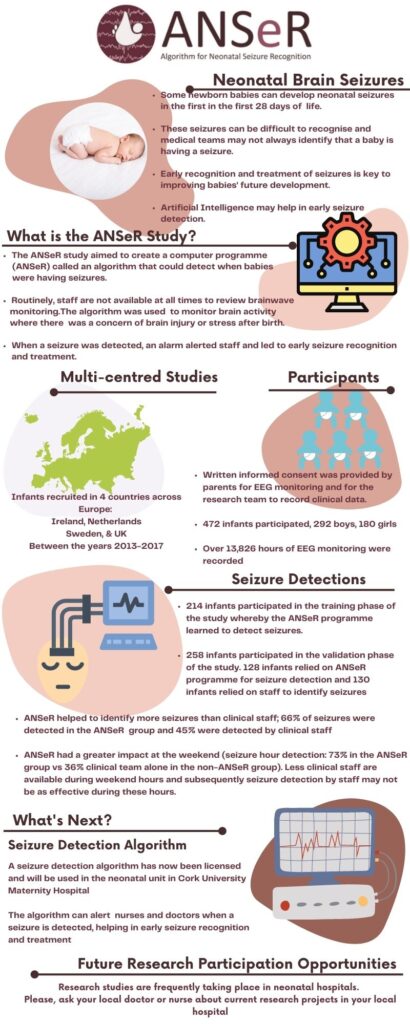 More information about ANSeR
Stay in touch with the Neonatal Brain Consortium Ireland by signing up to
our newsletter