NEPTuNE scholars, Tim Hurley, Chelo del Rosario, Megan Dibble and Fiona Quirke attended the 2019 World Prematurity Event which was organised by NEPTuNE partner, the Irish Neonatal Health Organisation (INHA). The event was held in the Alexander Hotel, Dublin, and was formally opened by RTÉ Science and Technology correspondent Will Goodbody, whose son was born prematurely at 34 weeks.
Lindsey Harrison, mother of triplet boys, was first to present and spoke on the following topic: 'Struggling with Success: How Gratitude and Adversity can Co-exist'.
Professor Eleanor Molloy chaired the 'Original Research Session' and our scholars were delighted to be present to support fellow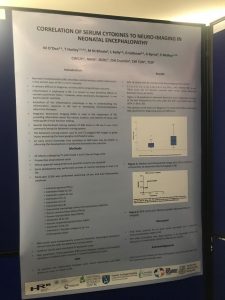 scholar Tim Hurley as he made his informative presentation on 'The Correlation of validated MRI scoring systems in Neonatal Encephalopathy. Other presentations at this session included Sarah Meaney's talk on 'Neonatal Therapeutic Hypothermia in Ireland' and Aisling Garvey's talk on 'EEG during the first 6 hours in Infants with Mild Neonatal Encephalopathy'.
Dr John Murphy, member of the NEPTuNE Steering Committee, chaired the the first research session which included presentations from Professor Shoo Lee, Neonatologist, Mount Sinai Hospital, Toronto, Canada and Dr Michael Zeller, Neonatologist, Passau, Germany. The NEPTuNE team were very impressed with Professor Lee's presentation on "New Knowledge About Breast Milk" and by Dr Zeller's talk on 'Family Integrated Care – from Bench to Bedside' which emphasised the importance of family integrated care. Guest lecturers included Professor Ola Didrik Saugstad,  Professor of Paediatrics at the University of Oslo and Director of the Department of Paediatric Research at Oslo University Hospital, and Professor Rashmin C Savani, MBChB William Buchanan Chair in Paediatrics, Chief-Division of Neonatal – Perinatal Medicine, Assoc. Director – Centre for Pulmonary & Vascular Biology, University of Texas Southwestern Medical Centre, Dallas.
The INHA launched their new educational guide, Next Steps… The Journey Home, at the event. The booklet's objective is to empower parents of premature babies in making the transition from hospital to home easier and to improve long-term outcomes for premature babies.