HRB CRCI hosted a conference to celebrate International Clinical Trials Day on Monday, May 13th at the Mansion House.
Opened by Minister Simon Harris, this annual event aims to showcase events and activities being organised in research centres, units and networks for International Clinical Trials Day.  This year's conference also marked the formal launch of Ireland's full membership of the European Clinical Research Infrastructure Network (ECRIN). Professor Jacques Demotes, Director General, ECRIN was present to formally welcome Ireland into the organisation. The agenda also included insightful talks on Clinical Trials in Ireland and Europe from Dr Darrin Morrissey, CEO, HRB, Itziar Canamasas, MD, Bayer/Member of IPHA Prescription Medicines Division, Dr Fionnuala Keane, COO, HRB CRCI, and Dr Caitríona Fisher, Director of Quality, Scientific Affairs & Communications, HPRA.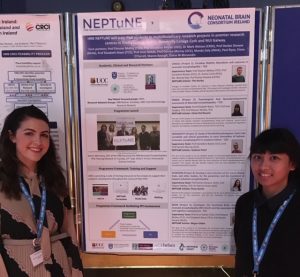 Amongst the many poster submissions were submissions from HRB NEPTuNE scholars, Fiona Quirke, Tim Hurley, and programme manager, Beth Corcoran, CRDI. Fiona Quirke's poster gave an overview of her project COHESION which aims to develop core outcome sets for use in clinical trials. Tim Hurley's poster gave the audience an insight into his research project CRADLE which examines the impact of circadian rhythm alterations in neonates. Beth Corcoran's poster described the HRB NEPTuNE programme framework giving the audience a summary of the 5 individual projects, the training resources available to scholars and how PPI engagement has worked to date in the project. We were delighted that NEPTuNE scholar Chelo del Rosario, lead PI Professor Eleanor Molloy and Dr Mark Watson, CRDI, also attended the event, lending their support to their NEPTuNE colleagues at the poster session!
Panel sessions on Clinical Trials and and MedTech were also held in the early afternoon. The event attracted an audience of over 200 people from all areas of clinical research.