DISCO
Down Syndrome Research Group aims to progress research that will provide improved outcomes for children who have been diagnosed with Down Syndrome.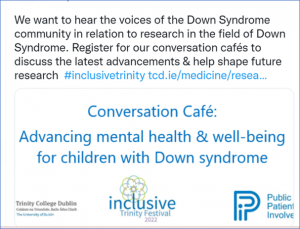 PPI Ignite Festival 2022 – Down Syndrome Conversation Café
On Thursday, 13th October 2022, the DISCO group hosted the Down Syndrome Conversation Café for parents, advocates, clinicians, therapists and researchers. The event was part of TCD's PPI Festival which aims to inform and involve members of the public in research.
The Down Syndrome Conversation Café consisted of presentations from the following TCD academics who described research in their disciplines that related to children with Down Syndrome.
Professor John Gormley, Discipline of Physiotherapy, School of Medicine, TCD: Physical Activity and Exercise Prescription for Children and Adults with Down Syndrome
Professor Eleanor Molloy, Chair of Paediatrics and Child Health at the School of Medicine, TCD: Inflammatory Biomarkers in Children with Down Syndrome
Eleanor also leads the Infant Down Syndrome clinic in Children's Health Ireland (CHI) Tallaght Hospital and is a principal investigator for a research group (DISCO) investigating Down syndrome.
Dr Mary Canavan, Assistant Professor in Immunology at the School of Medicine, TCD: Down Syndrome Associated Arthritis (DA)
Dr Jean Quigley, Assistant Professor in Developmental Psychology and co-director of the Infant and Child Research Lab at the School of Psychology, TCD: Language Development in Down Syndrome 
The audience also heard from Mei Lin Yap, a young adult with Down Syndrome, who spoke about her own aspirations and achievements. Beth Corcoran, a mother of a child with Down Syndrome, also spoke of the value of research to the Down Syndrome community.
The event was attended by 70 parents/advocates, 14 professionals who work with children with Down Syndrome, and other individuals who have an interest in health policy or research. Feedback to the event was very positive and we hope to hold another event in the future to further involve parents and advocates in research.
Publications in field of Down Syndrome
Physical Activity and Exercise Prescription for Children and Adults with Down Syndrome:
An exploratory study of the association between physical activity, cardiovascular fitness and body size in children with Down syndrome; Shields, N., et al. (2017). Developmental neurorehabilitation, 20(2), 92-98. https://doi.org/10.3109/17518423.2015.1077901
Inflammatory Biomarkers in Children with Down Syndrome:
Immune dysregulation in children with Down syndrome; Huggard, D., et al. (2020). Frontiers in pediatrics,8, 73. https://doi.org/10.3389/fped.2020.00073
Increased systemic inflammation in children with Down syndrome; Huggard, D., et al. (2020). Cytokine,127, 154938. https://doi.org/10.1016/j.cyto.2019.154938
Parent, child and public involvement in child health research: core value not just an optional extra; Molloy, E. J., et al. (2019). Pediatric research, 85(1), 2-3. https://doi.org/10.1038/s41390-018-0245-z
Down Syndrome Associated Arthritis (DA):
O2 Is Down's arthritis (DA) a distinct disease from JIA? Foley, C., et al. (2018). Rheumatology, 57(suppl_8), key273-001. https://academic.oup.com/rheumatology/article/57/suppl_8/key273.001/5123445
Increased T cell plasticity with dysregulation of follicular helper T, peripheral helper T, and Treg cell responses in children with juvenile idiopathic arthritis and Down syndrome–associated arthritis; Foley, C., et al. (2020). Arthritis & Rheumatology,72(4), 677-686. https://doi.org/10.1002/art.41150
Language Development in Down Syndrome:
Other DISCO Research Items
Stay in touch with the Neonatal Brain Consortium Ireland by signing up to
our newsletter