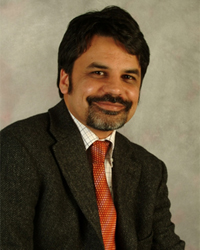 Professor Arun Bokde
Arun Bokde is Associate Professor in Neuroimaging in the Discipline of Psychiatry, School of Medicine, Trinity College Dublin as well as Principal Investigator in the Trinity College Institute of Neuroscience. He uses functional and structural neuroimaging in infants to study normal neurodevelopment and the impact of brain lesions on the developmental pathway and consequent behavioural and cognitive impairments.
Arun Bokde is member of a large multi-centre European study (IMAGEN) examining how biological, psychological, and environmental factors during adolescence may influence brain development and mental health.
Before coming to Trinity College Dublin, he was a Research Scientist at Ludwig Maximilian University in Munich, Germany; and previously he was a Postdoctoral Research Fellow at the National Institute on Aging and at the National Institute of Mental Health, both at the National Institutes of Health (USA). His first post-doctoral position was at Northwestern University (USA). He obtained his PhD degree at the University of Texas at Austin.